by Elyn Aviva
In an unexpected visionary encounter, the goddess Elen of the Ways offered to guide me across Wales. All I had to do was agree to walk on the ancient roads known as Sarn Helen. This dream-like apparition had the head of a reindeer—or perhaps her head was human but sprouted reindeer antlers. I couldn't quite make out the details, but that's how it is with mythic beings and visionary meetings.
I told my husband, Gary, about my dream-like encounter.
His eyes lit up with excitement. "Yes!" he exclaimed.
Surprised, I repeated, "Yes?"
"Yes!" He repeated.
We both laughed. Suddenly, we realized how eager we were for a shared adventure. Without further hesitation, we said "Yes" to this antlered spirit-guide, "Yes" to a journey where we would give up trying to be in charge and, instead, would trust synchronicity and intuition. After all, we reassured each other, we could always change our minds if it didn't work out….
Although my visionary encounter with Elen of the Ways was mysterious, Sarn Helen itself is not. Sarn Helen is the name for a network of nearly 2,000-year-old (and some much older) roads that linked Roman fortifications across Wales. The Welsh word "Sarn" means "Causeway" (paved road) and "Helen" probably refers to Elen Luyddog, the Welsh wife of Magnus Maximus, a real-life, fourth-century Roman emperor who moved to Wales to marry her. Or so the legend goes.
Or—maybe, just maybe—Sarn Helen is named after Elen of the Ways, the antler-topped (or reindeer-headed) goddess of ancient Britain and northern Europe, a goddess famed for "opening the Ways" and leading Paleolithic hunter-gatherers on the migratory tracks of deer and reindeer. It was this Elen who appeared to me, unbidden.
Several years before, while doing research for our Powerful Places in Wales guidebook, my husband, Gary, and I had tried to find Sarn Helen. We had no success. This time I was sure we would have better luck. After all, Elen of the Ways herself would be leading us! But just in case, I contacted our Welsh friend Ros Briagha, an expert on the Old Ways and old trackways of Wales. She had an opening in her busy schedule the following week and agreed to take us around. Ros suggested that we start in the south of Wales, at Carmarthen, site of an ancient Roman fort and reputed to be the birthplace of the wizard Merlin.
We had vowed to pay attention to synchronicities, symbols, and signs. "Sidewalk Oracles" is what dream-shaman Robert Moss calls this kind of playful interaction with the world. But not making plans proved difficult, both practically and psychologically. We had to know where and when we were going to start, even if we didn't know where we were going.
We had to do a minimal amount of "due diligence"—checking transportation options, making reservations, etc. But what was minimal? Gary and I soon learned that we had different definitions. He wanted more structure, more certainty, more planning. I countered that letting the journey unfold spontaneously was what mattered, not the itinerary. The goal was to have no goal. Clearly, this trip would reveal as much about our inner landscape as about the outer.
We traveled to Wales and began our first morning with Ros by looking at road maps. She pointed out the dotted traces of Sarn Helen scattered across Wales. Unfortunately, the dotted lines indicated that many of the old Roman roads were buried beneath modern highways, railway tracks, and scenic byways.
"Not to worry," Ros assured us. She knew several places where Sarn Helen could still be walked. Some, however, would require day-long hikes up and over hillsides. She looked at us, eager for adventure but definitely getting older—I was 70 years old, Gary was 80. She looked at the weather: windy and rainy. "I'll have to wait for guidance," she declared.
We nodded. After all, wasn't that what this trip was really about?
After first exploring the grass-covered ruins of the Roman amphitheater in Carmarthen, we set off in our rental car to visit another Roman site. As we drove down the A40, Ros explained that the highway was built over the old Roman road that began in London, far to the east. And this Roman road, it turned out, had been built over a much more ancient trackway. The proof was the numerous megalithic sites—standing stones and dolmens—located along the way. They were constructed thousands of years before the Romans invaded Britain in 77 CE.
Was this evidence of the ancient trackways of Elen of the Ways? It certainly seemed to be.
The next day we drove east and north, heading toward a well-preserved stretch of Sarn Helen north of Ydstradfellte, on the edge of Brecon Beacons National Park. En route, we passed a roadside pointing to Sarn Helen Café.
I felt a tingle—or maybe a twinge—of intuition. "Turn around!" I exclaimed.
"My thought exactly," Ros replied.
We drove into Coelbren and, although we never found Sarn Helen café, we found Road Sarn Helen. We followed it to the end of town, parked the car, and got out. Before us was an open-air homage to Sarn Helen: two stunning pavement mosaics that showed the route. And between them was a delipidated asphalt trail leading up a hill. Sarn Helen. Delighted with our fortuitous discovery, we three eagerly took our first steps on the ancient way.
Later we drove north through Ydstradfellte and parked in the Forestry Commission parking lot next to River Llia. A mix of forest trail and Roman pavement led us up past the remains of a Roman camp to Maen Madoc, a "repurposed" Bronze-Age standing stone turned into a Roman memorial—proof again that the ancient pathways pre-existed the Roman roads.
During the next few days we followed wherever Ros and Elen of the Ways led us, which included hiking on Sarn Helen forest trails in Coed y Brenin Forest Park and walking on a water-logged path through a farmer's field. Following her intuition, Ros decided to drive us to Caernarfon in north Wales, site of the ancient Roman fortification Segontium—and once the home of Magnus Maximus and his Welsh wife, Elen Luyddog.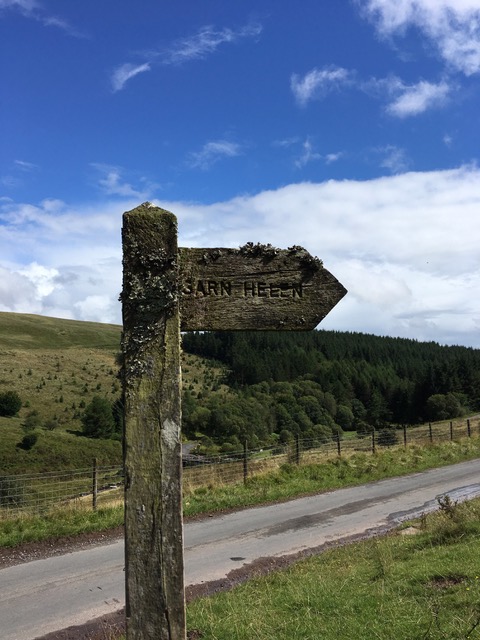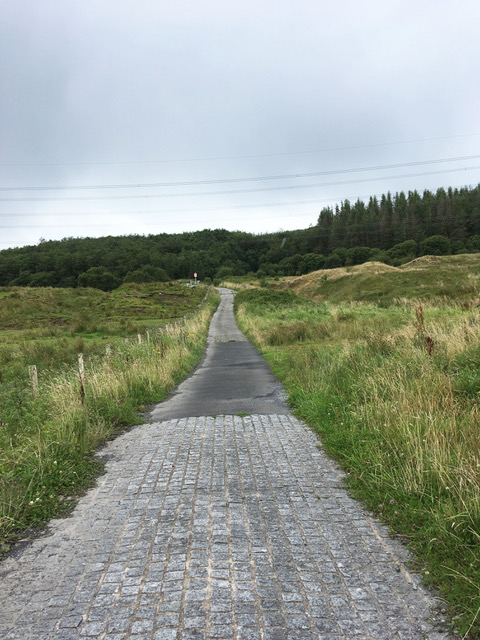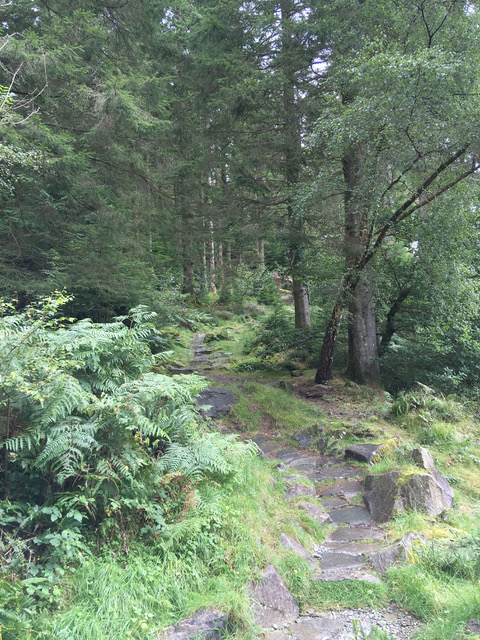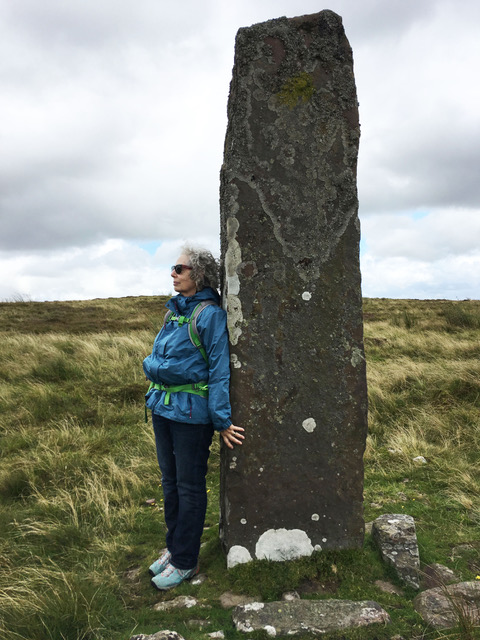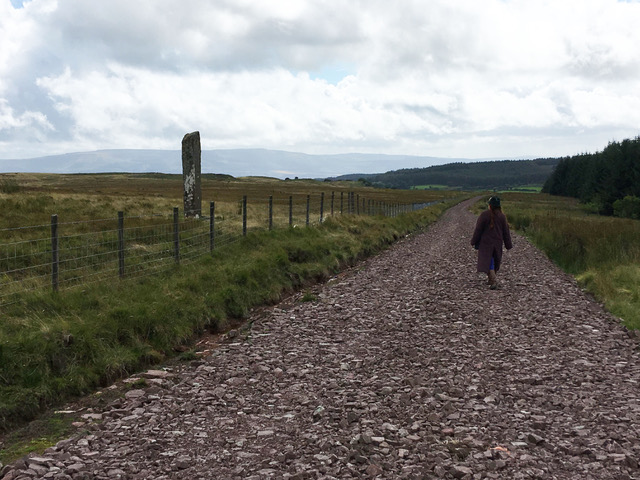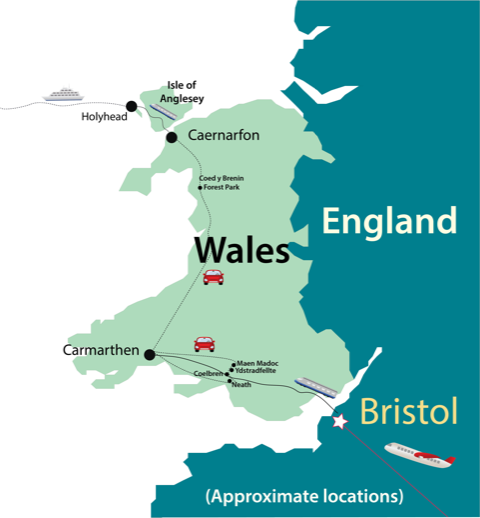 There, we said goodbye to Ros and let our intuition guide us across the Irish Sea to Ireland and then north to Scotland. While waiting in the Edinburgh airport for our delayed plane to the Orkney Islands, we reviewed our experiences.
Although Gary had become more accustomed to "spontaneous" travel, he was still not comfortable with it. He observed, "Elen of the Ways may be fine for the 'big picture'—like where to go—but she has her limitations. She doesn't understand anything about the exigencies of modern travel, like flight cancellations, the cost of making last-minute hotel reservations…."
We discussed whether we were being guided—or were simply misguided. To an objective observer, we might have seemed either foolish or mad. After all, we had no concrete proof that Elen of the Ways was leading us. Perhaps it was all just wishful thinking.
"Maybe it doesn't matter," I asserted. "After all, we are having an adventure and learning to let go of old patterns of planning and control. That's good, regardless."
But somehow, we both knew it did matter. A lot.
Pondering the possibility that our entire journey was a random walk rather than a guided "walkabout," I strolled down to the far end of the concourse. There I saw a display rack filled with free magazines. I picked one up at random, sat back down next to Gary, and handed it to him. He gasped and pointed to the cover. It was a stunning collage of an antler-headed woman. Inside was an interview with the artist, Dan Hillier, who explained that Elen of the Ways had been his creative inspiration.
It appeared that Elen of the Ways had found a way to show up on the physical plane and reassure us. Instead of being filled with doubt, we were filled with gratitude—gratitude for saying "Yes" to adventure—and gratitude for Elen's willingness to guide us.
Elyn Aviva is a transformational traveler, writer, and fiber artist who lives in Oviedo (Asturias), Spain. She is co-author with her husband, Gary White, of "Powerful Places Guidebooks." To learn more about her publications, go to www.pilgrimsprocess.com and fb.me/ElynAvivaWrites on Facebook. To learn about Elyn's fiber art, go to www.fiberalchemy.com. Elyn's latest novel, The Question – A Magical Fable, has just been published. Elen of the Ways plays an important role in the story.
Resources
Sidewalk Oracles, Robert Moss. Novato, CA: New World Library, 2015.
Ros Briagha: www.rosbriagha.org/
Companion Tales to The Mabinogi, John K. Bollard, translator. Llandysul, Ceredigion, Wales: Gomer Press, 2007.
Elen of the Ways – Shaman Pathways, Elen Sentier. Alresford, Hants: Moon Books, 2013.
Finding Elen – The Quest for Elen of the Ways. Caroline Wise, editor. London: Eala Press, 2015.