by Keith Digby

The best way to recover from jet-lag is possibly not walking among the dead. But on a sunny morning last September, that's what my wife, Cynthia, and I did. Excited to experience again this wonderful place we had visited two years earlier and kick-started by several cups of punchy Parisian coffee, we marched the twenty-five-minute journey to the Rue du Repos in the 20th Arrondissement to visit what Parisians call "La Cité des Morts".

We were just inside the gates when we heard a tour guide's chirpy announcement, "…but for just €8,000 you can stay here for 50 years."

"Book us in," we thought. To stay for 50 years at our modest hotel in the Marais, with the comedically small bathroom and all-night party across the street would cost just over €2,000,000. Fifty years for €8000 struck us as a great price… though it comes with the minor inconvenience of having to be deceased.

Flippancy doesn't last long at Père Lachaise Cemetery: a silent city of mausoleums, covering one hundred and ten acres and housing several centuries of human remains. Flippancy evaporates when confronted with sentiment, awareness of greatness, intimations of mortality… and sudden deep sadness for those recently dead at the hands of evil.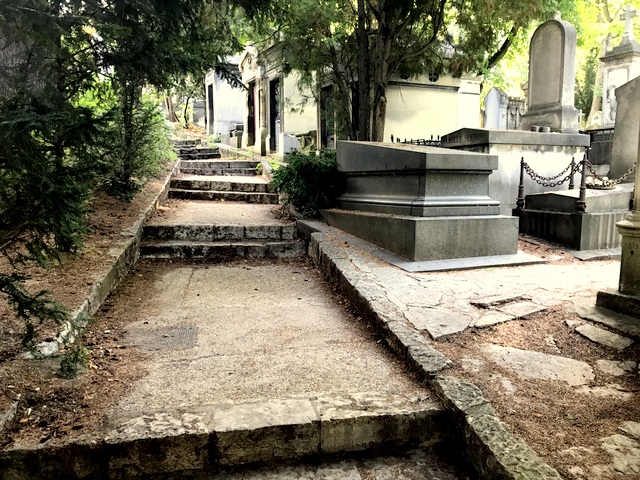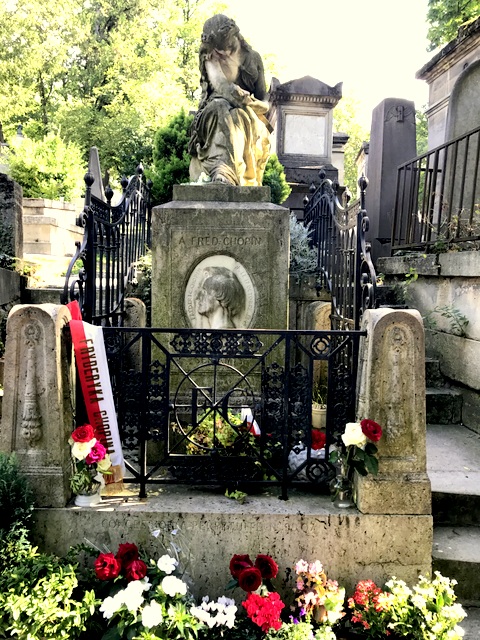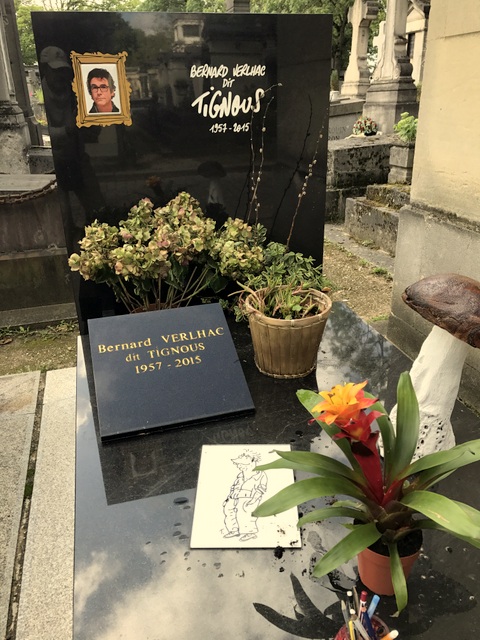 We first sought, near the center of the cemetery, the grave of Ireland's great and notorious poet-playwright, Oscar Wilde. This sphinx-like sculpture by great U.S. /U.K artist, Sir Jacob Epstein, attracts thousands of visitors every year. Until 2011, before the tomb was surrounded by glass walls, fans applied lipstick and kissed the limestone monument. Now the glass allows people to express their feelings, leaving lipstick easily removable and the limestone protected.

Then came the first hit. In the Northeast corner of the cemetery, a row of monuments and statuary depicts and commemorates the Holocaust. Skeletal figures and wagons filled with dead bodies are graphically shocking memorials to the concentration camps of Dachau, Auschwitz, Buchenwald, and Sachsenhausen. Horrific though the representations are, they should simply be a pointed reminder of repulsive evils past. Sadly, there are so many current examples, notably in Charlottesville last August, to remind us that the sick stupidity that is anti-Semitism, is alive and disgustingly well.

On the way down from the upper corner, we visited a childhood favorite: "Monsieur 100,000 Volts", French pop singer Gilbert Becaud whose major hit "Et Maintenant" graced our airwaves in the sixties as "What Now My Love".

We moved on a hundred meters and back a hundred and seventy years to admire the beautiful statue of "Music in Tears" that mourns atop the body of Frederic Chopin… though his heart, apparently, is in a jar in Warsaw, pickled in Cognac.
Then, on a softer note, we again visited the simple, always flower-strewn tomb of "Little Sparrow". Edith Piaf's music floats through my brain. Cynthia sings snatches of "Non, Je ne Regrette Rien."
In the few short minutes, we stay, a dozen or so arrive, stand for a few seconds of sentimental homage and waft on.

Further down still, there's more of a young vibe. Twenty and thirty-year-olds predominate. Clutching their cemetery maps, most seem to arrive at a trot as though afraid that he might suddenly be gone if they are too slow in getting there-- this iconic young man they seem to revere but who was dead before any of them was born. To preserve both the trunk and the tradition, the custodians of Père Lachaise have wrapped bamboo around the tree in front of Jim Morrison's simple, tucked-away resting place. Many who visit stick chewing gum on this tree, both to say "I was here" and as an expression of the Doors icon's independent, flouting-of-authority streak. In 2011 on the 40th anniversary of the singer, songwriter, poet's death, 4,000 visited his grave.

It's one thing to visit the graves of those who died a generation or two ago when mourning has become fond memory, a lesson from history or cult idolatry, but the last two graves we saw, both by chance, made the true nature of this place bitingly real.

Satirical newspaper Charlie Hebdo kicks the ass of a dormant conversation and shocks it into life. It is often offensive, crosses so many lines that you need all of its artists' pencils to draw them, is both reviled and revered. And on January 7th 2015, two brothers broke into Charlie Hebdo's offices, murdered 12 people and injured 11 others. The grave of Bernard Verhlac, who drew under the name Tignous, father of four, member of Cartoonists for Peace and Clowns sans Frontieres, needs no further words.

If the grave of Tignous sobered us, we were in much worse shape a few moments later.
On November 13th 2015 I was watching football on TV at our home in Limoux, Occitanie: France v Germany in an international friendly. Suzon Garrigues, aged 21, was at an Eagles of Death Metal rock concert. As I watched the match, there was a strange sound. Everything stopped for a second, then continued. Elsewhere in Paris, at the Bataclan Theatre, for Suzon Garrigues, third-year Sorbonne student, ardent admirer of Zola, everything stopped forever at the hands of terrorists.

Père Lachaise Cemetery is a wonderful place to visit; it's also a graveyard. We left, feeling a little overwhelmed by an experience that was rich, rewarding… and a truly sad reminder.
 
Keith Digby is a retired professional educator and professional theatre director who writes screenplays and lives in Limoux, Occitanie and Cobble Hill, Vancouver Island.